Are you looking for some fun, engaging, and unique virtual lunch ideas for your team?
Well, look no further!
In this blog post, we share 10 of our favorite virtual lunch ideas that are perfect for teams of all sizes. There is something for everyone! So get ready to take your lunch breaks to the next level!
What is a Virtual Lunch?
A virtual lunch is simply a lunch meeting that is held over video conferencing rather than in person.
This can be a great way to stay connected with your team members, even if you are not able to meet in person. A virtual lunch is an excellent way to bond, learn new skills and have some fun!
You can participate from anywhere and use any online platform you like, but our preference for ease is Zoom or Google Meet.
Mix in some interesting and fun activities or even better, hire a company to host it, and voila! You have yourself a virtual lunch!
How to Host a Successful Virtual Lunch?
Just like with regular lunch, there are a few things you need to do to make sure your virtual lunch is successful.
First, make sure to pick a date and time that works for your remote employees.
It can be tricky time management with different time zones, but try to find a middle ground.
Second, develop a plan!
Decide on a theme or what you're going to do ahead of time.
If you are hiring a third-party company to host the event, get in contact and confirm all the details so that everything runs smoothly.
Third, send out invitations
Include instructions to your virtual team members in advance, and make sure everyone has the link and knows how to use the platform.
We suggest sending all guests a reminder the evening before or at the very latest the morning of your lunch with any last-minute tips such as being prepared and on time
Now let's get into the good stuff… here are our top ten unique virtual lunch ideas for your team!
Virtual Lunch Ideas
1. Order Them Food
OK let's get the easy one out of the way first – order them some food.
You can hold this virtual lunch in a couple of different ways, you can either have it delivered to their homes or offices, or you can give them a gift card to their favorite restaurant.
However, our personal favourite way to do this is to select a theme for the food so each attendee can compare.
For example, you could do a 'best pizza in town' virtual lunch and have everyone order from their favourite pizzeria.
Then, once everyone has arrived at the meeting, you can all share and enjoy your different pizzas together!
2. Host a Coffee Tasting
Is your team a 'coffee-snob' bunch?
Then a virtual coffee tasting is the perfect virtual lunch activity for you!
In this interactive and educational session, a professional coffee expert will guide your team through tasting a variety of different coffees.
You will learn about the brewing process, origins, roasts, blends and how to taste coffee like a pro.
Tastings are a great way for you and your colleagues to share thoughts about the coffee varieties and have an opportunity to ask the expert questions!
3. Learn Lock Picking
That's right, you can learn how to pick a lock…just for fun!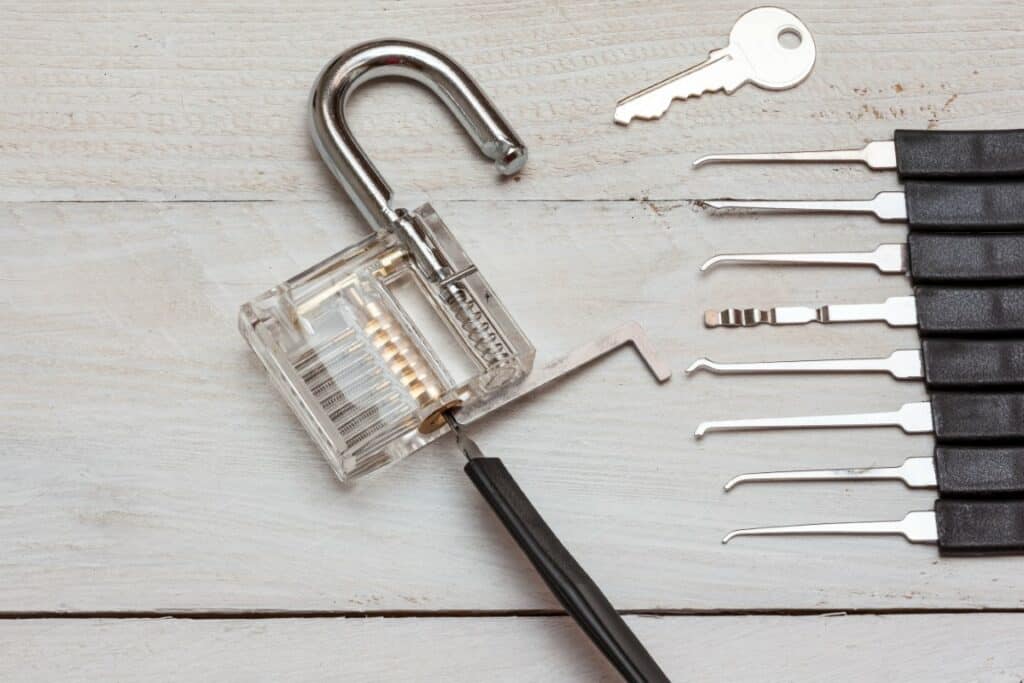 This is a fantastic event that provides a truly unique and engaging team bonding experience.
It encourages collaboration and team comradery. It is also a great way to learn a new skill that could come in handy one day!
Learn how locks are constructed and how they work. Plus your host will show you stealthy and professional techniques to pick them.
A top-notch lock picking kit will arrive at each participant's address before the event day.
Simply log in a few minutes before go time and be prepared to have an awesome time! This one is truly original!
You can find out more here…
4. Host a Jam Making Virtual Lunch
Who doesn't love some good old-fashioned, homemade strawberry or apricot jam? In this virtual class, a professional jam maker will teach your team how to make their own!
You will learn about the different types of fruit and berries, how to choose the perfect ones and of course, the best way to turn them into delicious, sweet jams.
You will be guided step-by-step in the canning process and have all the ingredients shipped to your doorstep.
This is a fun and unique online lunch activity that everyone will enjoy.
5. Dial Into a Virtual Meditation Class
Booking a virtual meditation lunch is the ultimate way for your entire team to de-stress, relax, and recenter.
Achieving success takes focus; maintaining it requires clarity – which starts internally.
Meditation is known for its ability to calm the mind, ease anxiety, and improve focus and concentration (at home and work!).
When hiring a professional Instructor to lead in meditation, you are in good hands.
A virtual meditation lunch is super simple to attend: all you need to do is throw on comfy clothes, find a quiet spot in your home, tune into Zoom and enjoy a peaceful and zen session.
If this sounds like something your remote team will love, we highly recommend reaching out to Within Meditation!
6. Join a Virtual Pizza Class
Nothing says team building like a virtual pizza making class! In this fun and interactive online lunch break, your team will learn how to make their own pizzas from scratch.
A professional pizza chef will guide you through the dough-making process, provide tips on dough tossing as well as teach you how to choose the perfect toppings.
Then you will bake your pizzas to perfection.
Each team member will be provided with all the ingredients and supplies needed, so all you have to do is log in, follow along and enjoy some delicious pizza with your team.
7. Indulge in an Online Beer Tasting
Is your team more of a beer-loving bunch? Then an online beer tasting with Canadian Craft Tours is perfect for your next virtual lunch activity!
In this super cool yet educational session, a Beer Sommelier will guide your team through a variety of different beers.
You will learn about the brewing process, how to taste beer like a pro and sample some delicious craft brews (Feel free to bring along some snack food to munch on!).
Tastings are a great way for you and your colleagues to share thoughts about the beers and an opportunity to ask the Sommelier questions.
This is such a great way to bond with your team over something everyone can enjoy. And who knows, you might even discover some new favorite beers!
8. Host a Build Your Own Lattes Virtual Lunch Event
Perfect for a group of co-workers that favor milky coffee drinks over the darker stuff!
This is a highly interactive virtual lunch where you and your team will be led by a pro to construct tasty latte drinks while following along right from home!
When booking one of these fun-induced Build You Own Latte events, all the ingredients are delivered right to your door and there will even be plenty of leftovers to whip up more lattes later on!
9. Refresh Your Team With a Virtual Tea Tasting
Similar to a coffee tasting event, but with tea!
In this Tea Tasting Virtual Lunch, your host will guide you and your team through brewing and tasting a variety of different teas.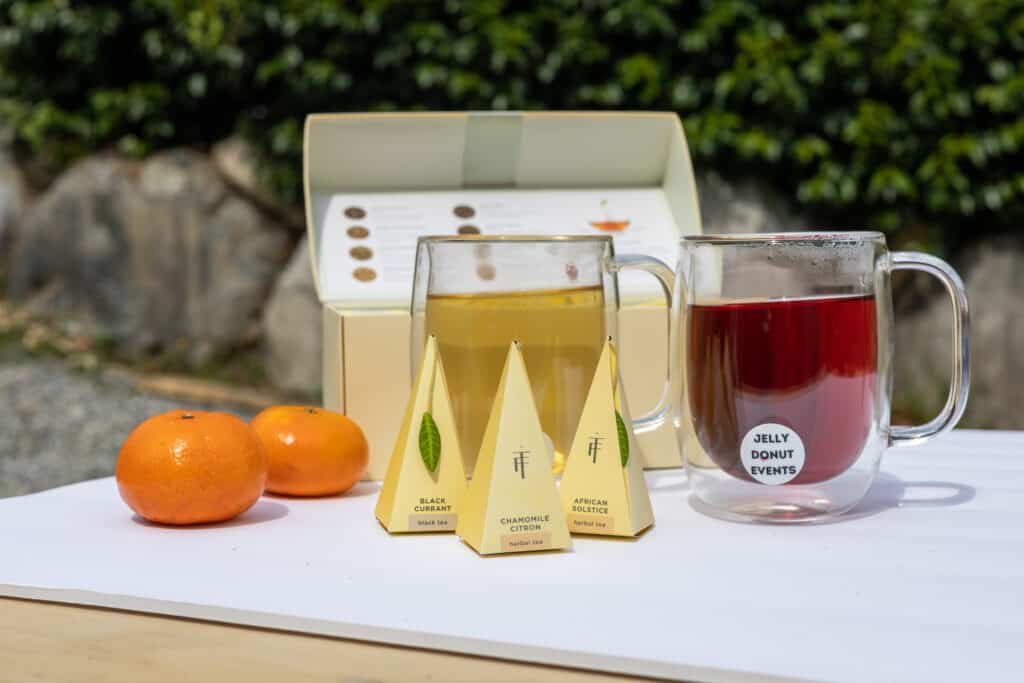 You will have the opportunity to learn the origin of each tea as well as how the process from field to cup works!
Enjoy savoring a few different delicious varieties right from the comfort of your kitchen or living room.
By the end of this team builder, you and your colleagues with be tea pros!
10. Zen Your Team With an Online Sound Bath
Thanks to the magic of the internet, you can take your team on a relaxation journey with an online sound bath.
Sound healing is an alternative therapy that uses sound waves to promote relaxation and well-being. It is based on the belief that our bodies can respond positively to certain frequencies of sound.
Different sounds produce different effects, but they all aim to create a state of deep relaxation.
Sound healing is said to be beneficial for conditions such as anxiety, stress, insomnia and even pain relief.
This is a brilliant way to destress and unwind together.
In a sound bath session, you will lie down comfortably as you listen to different types of soothing sounds.
The sounds can range from Tibetan or crystal singing bowls, gongs, chimes and even voice.
You and your remote team will feel your stress melt away and emerge feeling refreshed and rejuvenated.
Conclusion
So there you have it, ten unique virtual lunch ideas for your team that are sure to get everyone bonding and having a really great time.
From online beer tastings to latte-building classes, there is something for everyone to enjoy.
So go ahead and pick one (or more!) of these unique activities for your next team lunch and get ready to have a blast!
Cheers!