If you're looking for ideas for the best virtual coffee tasting events and classes, you're in the right place!
In this article I'm going to take you through what these events are, why you should run them and some great event examples of events.
There's even a DIY section at the end if you're brave enough to try to organize one yourself!
What is a Virtual Coffee Tasting Event for Teams?
Coffee tasting virtual events are where a trained coffee professional takes you (and your team) through a coffee tasting online.
These kinds of events vary from just watching someone drink and talk about coffee online (boo) to fully managed events where you are sent coffee to sample live (yay!).
The events are often created for team building and team bonding purposes. In other words, they're a fun way for your team to get together to try something new.
In my experience, these types of events work best when held in the morning.
You get to try a bunch of delicious coffee and then go kick the day in the ass, fully caffeinated.
What is a Virtual Coffee Tasting Event for Customers?
OK, this one I'm really excited about.
Have you ever been to a sales kickoff, pitch, product launch or something else that is virtual and involves sales teams?
9 times out of 10 it's a dry, distracting and often unpleasant virtual sales pitch experience.
Smart sales teams have started to realize the benefit of incorporating something exciting and unique into their pitches…
… and this is where coffee tastings come in.
Imagine you're launching a new product, pitching to a customer or hosting a summit:
Everyone joins a zoom session
Before anything gets started, a coffee pro helps everyone brew their first coffee. This coffee of course was sent to them before the event starts.
Now that everyone is caffeinated, your sales team takes over and works their magic for 20 minutes.
We cut back to the coffee pro for brew number 2. At this point everyone is alert, responsive and keen to chat. Thanks, coffee!
Back to the sales team for more magic
Cut back to the coffee pro for a Q&A
Trust me, I've run lots of these events myself and they're a killer addition to the process. You can also rinse and repeat this for marketing teams looking to drive inbound sales too.
What to Expect in this Article
Virtual Coffee Tasting Classes
Here's my list of incredible virtual coffee tasting events for remote teams and sales customers.
Rules of the list:
Any events where you have to bring you own drinks have been ignored – the chance of things going wrong is too high.
In person events have also been ignored, although all of them can be hybrid events if you require.
All the event hosts will organize delivery to your group.
Each event works for small groups all the way to large groups.
Virtual Pour Over Coffee Event
Perfect for: Teams that like their black coffee but want to learn barista skills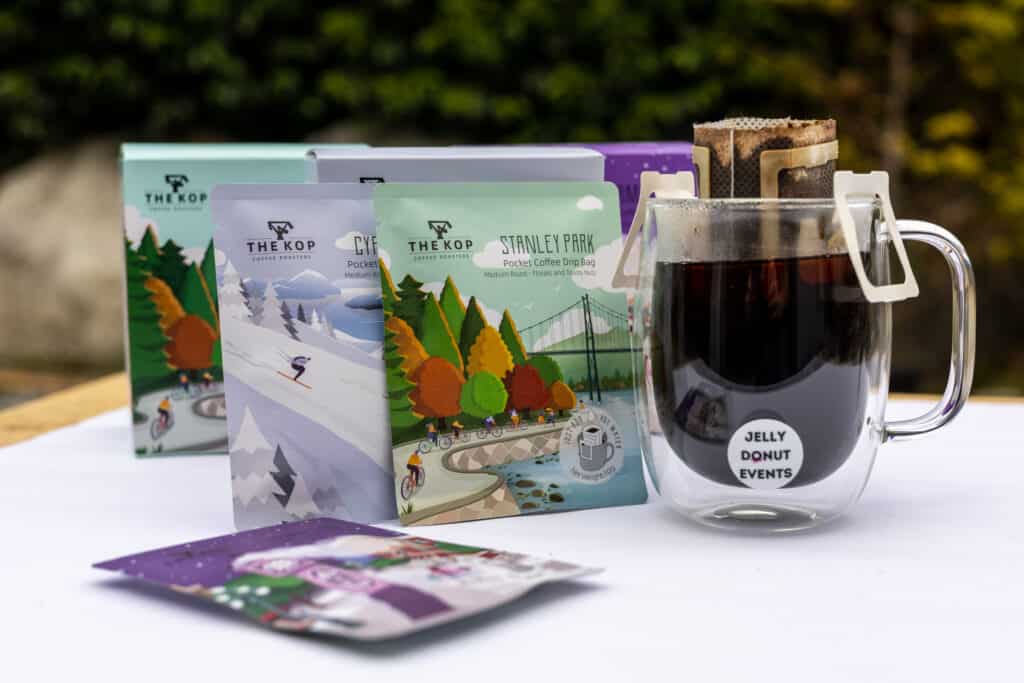 Pour over coffee is a coffee brewing method where coffee grounds are saturated with hot water and the coffee is allowed to drip down into the cup.
This coffee brewing method is often considered the gold standard by coffee professionals.
In this virtual coffee tasting event, a coffee professional will take your team through the pour over coffee brewing process.
They'll talk about why pour over coffee is so amazing and how to make the perfect cup.
Your team will be sent pour over coffee kits directly to their home before the event, which include some of the best coffee on the planet.
They'll then join a virtual session where a coffee expert will teach them how to use them using perfect brewing techniques.
Then they'll learn why coffee tastes the way it does, how to expand their palate and 'hacks' to make their coffee taste amazing.
Price: $69 per person and that includes 9 coffee kits, delivery to US, Canada and UK and the virtual event.
Learn more about the virtual pour over coffee tasting event here.
Virtual Build Your Own Lattes Event
Perfect for: People that might not like black coffee, but LOVE a good milk based coffee drink
Iced lattes are coffee drinks that are made with espresso, milk and ice. They're usually sweet and creamy, making them a popular choice for people that want a coffee drink that's a little bit sweeter.
In this virtual coffee tasting experience, your team will get to build their own iced lattes.
The weeks prior to the event attendees will be sent a kit consisting of:
cold brew coffee concentrate
almond milk
oat milk
coconut or soy milk
In a virtual session and with the help of a coffee expert, your group will learn how to craft the perfect iced latte.
They'll compare each of the vastly different tasting milks, as well as learn some amazing hacks to make their drinks taste better.
Price: $79 per person and that includes a full DIY latte kit, delivery to US, Canada and UK and the virtual event.
Learn more about the virtual build your own latte event here.
Virtual Coffee and Tea Tasting Event
Perfect for: Groups that want a caffeine hit and something fruity to followup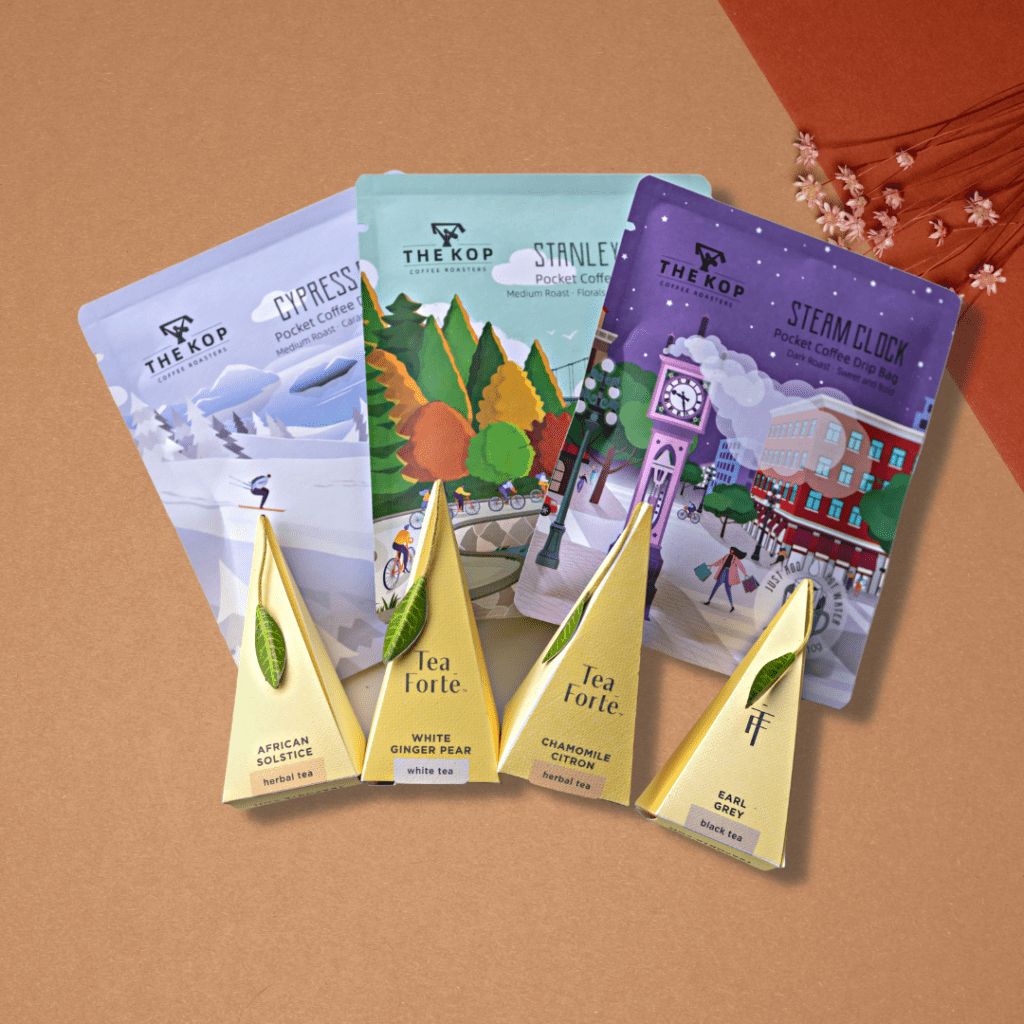 These virtual events work really well when you have a team that either likes a lot of choice or maybe wants to cut back on the level of caffeine of a regular coffee tasting.
Each attendee is sent the above mentioned pour over kits, but also a pack of gourmet teas.
In this online event your team will start by sampling two of the best coffees on the planet with an expert host. Then move on to one of the fruity and bright tea choices.
Price: $89 per person and that includes a full coffee and tea kit, delivery to US, Canada and UK and the virtual event.
Learn more about the virtual coffee and tea event here.
Virtual Coffee and Latte Tasting Event
Perfect for: Groups that want to try everything!
In this virtual team building event, you'll be sent the ingredients to make a coffee drink and an iced latte.
You'll be taken through the process of creating each of the drinks by a coffee expert, get tips on how to turbocharge them with some hacks and have plenty left over for after the event.
This is a highly interactive event and you really get to flex your barista skills with this one!
Price: $79 per person and that includes a full coffee, tea and latte kit, delivery to US, Canada and UK and the virtual event.
Learn more about the virtual coffee and latte event here.
Virtual Coffee Break
Perfect for: Groups that want to chat while drinking incredible coffee.
This is less of a team building event and more of a fun get-together that takes the place of virtual tastings.
You can approach this in a few different ways
Hosted Coffee Break
You hire a host to take you through a quick coffee tasting, then start your coffee break with your colleagues.
The host usually organizes getting the best coffee delivered to you, then takes you through brewing it up.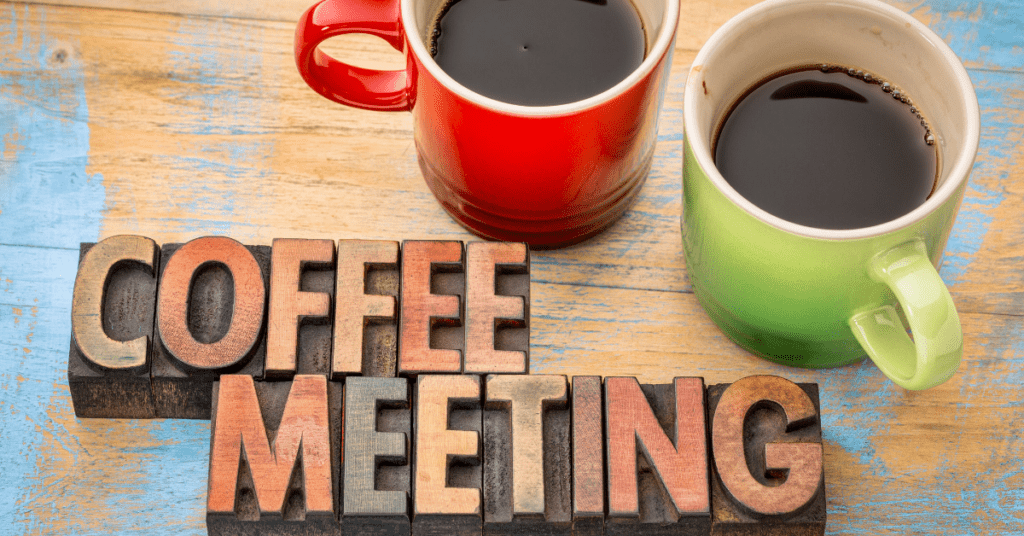 They then drop out of the Zoom / virtual session, leaving you chat with the other attendees.
These events vary in price, but my recommendation is to reach out to Jelly Donut Events using the contact form here.
Self Hosted Coffee Break
No virtual host is needed for this one.
You organize coffee to be sent to all the attendees you want present. You send out the Zoom links and then run the coffee break yourself.
My recommendations for what coffee to order are:
Tribo Pour Over Kits – they're not as quick as instant coffee and are very hands-on, but the quality is great.
Javy Cold Brew Concentrate – Add hot water to a spoon of this and you have an (almost) instant cup of coffee. It's not to the level of a coffee shop drink, but it's a great DIY coffee tasting tool. Plus it's much better than most instant coffee.
Why You Should Use Coffee Tasting In Your Team Building Efforts
Let's face it – there are a lot of different virtual team building events out there.
In my experience, the one thing that has to be constant in each event is that they must be fun.
Fun = engagement.
Engagement = group bonding.
Bonding = Team building.
Coffee has this magical way of hyping people up (thanks, caffeine!) as well as scratching the itch of something unique and fun to do.
Your team can connect over a shared experience, as well as try some of the best coffee they've ever had.
I've held a lot of these virtual coffee tasting experience events and I can tell you that as far as online experiences go, these are some of the most entertaining ways to bond your group