LEARN LOCKPICKING VIRTUAL EVENT
Learn how to pick progressively more difficult padlocks in this lock picking virtual team building event led by a security expert.
Perfect for: A group that wants to learn a new skill in one of the most unique team building events on the internet!
Virtual Learn Lockpicking Event
Hosted by Tom Fitzgerald

(1779)
$69/person
In this interactive virtual teambuilding event, your group will each be sent a lockpicking kit and a selection of practice padlocks.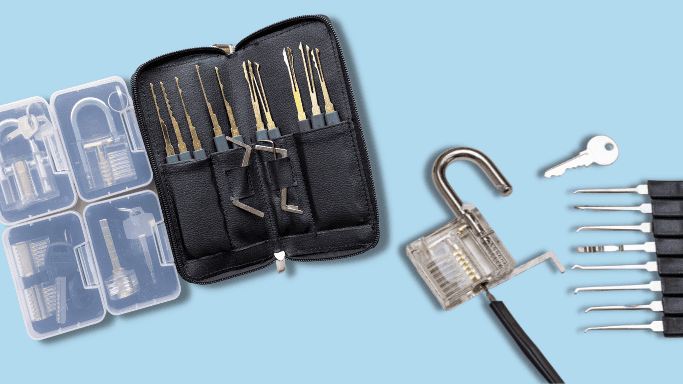 They'll connect to Zoom (or your own platform) where they'll be taught professional lockpicking techniques that they can apply to the three padlocks sent to them.
Each padlock is slightly harder than the last, plus we have several "challenges" to throw at each attendee during the event.
This is a fantastic event to provide your group with a truly unique and engaging team bonding experience. We put a focus on collaboration and team encouragement.
30, 60 and 90-minute versions are available

Groups of up to 2000 people

Delivery included in the price to most addresses

Available in US, Canada and UK. Please contact us for other locations.
How the event works
Two weeks before the event we'll send out a parcel containing one lock picking kit and three practice padlocks.
We'll handle all aspects of the logistics – you only need to show up to the event.
We'll coordinate with your group to send out calendar appointments, Zoom links (if needed) and email reminders as we get closer to the event.
During the event, each attendee will:
Learn how locks are constructed and how they work.
Learn professional techniques on how to pick locks.
Develop their skills using practice padlocks.

Take on extra "challenges" to test their new skills.

Bond as a team over a shared task.

Walk away from the event with a new skill set.
We can even work with you to customize the event with in jokes, hyper relevant trivia and custom swag.
Tom Fitzgerald
Our host Tom is a former security expert with a focus on "physical pen testing" aka breaking into buildings!
Some facts about Tom:
He's broken into dozens of buildings to (legally) steal data, to test their security.
Once infiltrated an international airline to steal the CEO's personal data using the power of donuts.
Was described as a "dangerously sneaky #$&*" by the CEO of one of the biggest tech companies in Canada!
Is a certified technical trainer.
Includes tax and delivery to most US, Canadian and UK addresses
Some of Our Happy Attendees