So a new year is quickly approaching, and it's time to plan your virtual sales kickoff.
But can you really make an annual sales kickoff the empowering event it should be if it's held in a virtual space?
Every exec knows that the business climate of the past year has been tough on morale.
Many sales teams are still exploring how the shift to virtual experiences has impacted their customers.
Salespeople may be disillusioned with remote meetings, and VPs of sales are scrambling to get everyone motivated over Zoom.
But at Jelly Donut Events, we think differently.
We believe the stage is set to host the best virtual sales kickoff ever.
We're here to prove that an expertly-planned online kickoff can energize your team and jumpstart sales in a way that outperforms in-person sales kickoffs.
Table of Contents
What is a Sales Kickoff?
A sales kickoff is a meeting at the beginning of a company's fiscal year (or sometimes quarter) where the entire sales team gathers to discuss quotas, review sales strategy, and get pumped for the year ahead.
Sales kickoff events usually happen right after the final and most stressful quarter of the year.
Some sales teams will celebrate success while others will review missed targets.
But no matter the mood going into it, virtual sales training is most successful if the concepts and skills taught are reinforced through entertainment and friendly competition.
It's definitely an investment to host such a major event, but a great sales kickoff will:
Energize your sales team
Help them understand their quotas
Saturate them with crucial info points about your products or services
Build camaraderie among your team members
Present your go-to-market strategy
Set the stage for the entire year's worth of sales
But What is a Virtual Sales Kickoff Event?
The internet didn't give us an answer for "when was the first sales kickoff ever held?".
But we're pretty sure sales kickoffs in some form date back to the days of travelling Sears Roebuck salesmen.
However, hosting your sales kickoff event online is a new idea for many companies.
A virtual sales kickoff is simply a sales kickoff meeting that happens on digital platforms instead of in person.
With the technology available in 2023, there's no reason not to go remote– especially given all its advantages over in-person events.
Five Reasons to Host your Sales Kickoff Virtually
1. There's Room for Everyone
Every single one of your sales team members can attend a virtual sales kickoff, no matter where they are in the world.
It builds unity and boosts team spirit to see everyone's faces in one place – even if that place is a computer screen.
2. You can train your team on the video conferencing platform they use for sales
These days, 75% of B2B customers prefer remote sales meetings, so it makes sense to train your sales reps in an online environment.
By hosting virtual sales kickoffs, you're allowing them to get comfortable with the various technologies they'll use throughout the year.
3. Virtual platforms offer unique ways to engage people
Believe it or not, video done right can actually engage people more than in-person meetings.
In a video conference, it feels like the speaker is addressing each attendee one-on-one.
Screen sharing, chat boxes, and gamification options allow everyone to see presentation details up close and join in the action.
People may even feel more natural talking with others from the comfort of their own home office.
4. Hosting a virtual event saves money and opportunity costs
Not only can every team member show up at your virtual event, but they don't have to take travel days to do it!
When there are no airfare, hotel, or travel costs to host your virtual sales kickoff, your company may have the budget to serve every employee an unforgettable cup of coffee.
5. Hosting a virtual sales kickoff takes less time to plan
Coordinating a sales kickoff event definitely takes less effort when you don't have to juggle travel plans and venue contracts.
You can even delegate the entertainment to a virtual events company like Jelly Donut Events and let us do our magic.
But just because a virtual event takes less time and money to plan, it doesn't mean you'll give your guests anything less than the VIP experience.
At Jelly Donut Events, we've helped dozens of companies celebrate success and launch their upcoming sales year with unforgettable virtual kickoff events.
Here are our favorite team-building activities you can incorporate into your agenda this year:
15 Amazing Virtual Sales Kickoff Ideas
1 – Choose a Cohesive Theme
Set a theme that aligns with the company's overall direction for the year.
Whether it's climbing Mount Everest, finding buried treasure, or cracking a secret code, your team will form lasting bonds if you create a virtual environment where they can work together toward a common goal.
2 – Get Your Team Involved in Planning Your Virtual Sales Kickoff
Hype your event well in advance and promise your team the least-boring sales kickoff meeting of the decade.
Invite your salespeople to join in the planning; people like to participate in things they helped to build.
Poll your team members before the event; is there an external speaker they would love to hear?
Would they rather play games or taste lattes?
This way, you can sneak a little extra team-building practice into the virtual sales kickoff event experience.
3 – Hire an Energetic Host or Comedian
A great speaker will emphasize the purpose of the meeting, not distract from it.
Brief your host on your event theme and the core values you want to communicate, and they will help drive your point home by introducing humor and getting everyone in a good mood.
4 – Provide food and beverage. (Read: Coffee)
Feeding people is the most fundamental way of welcoming them into your community.
When your team members are all eating or drinking the same thing, you've broken the virtual barrier and are connecting people in an extremely tangible way.
You can mail snacks or drinks to everyone in advance so they can share them at the meeting.
Our favorite way to do this is to incorporate Coffee…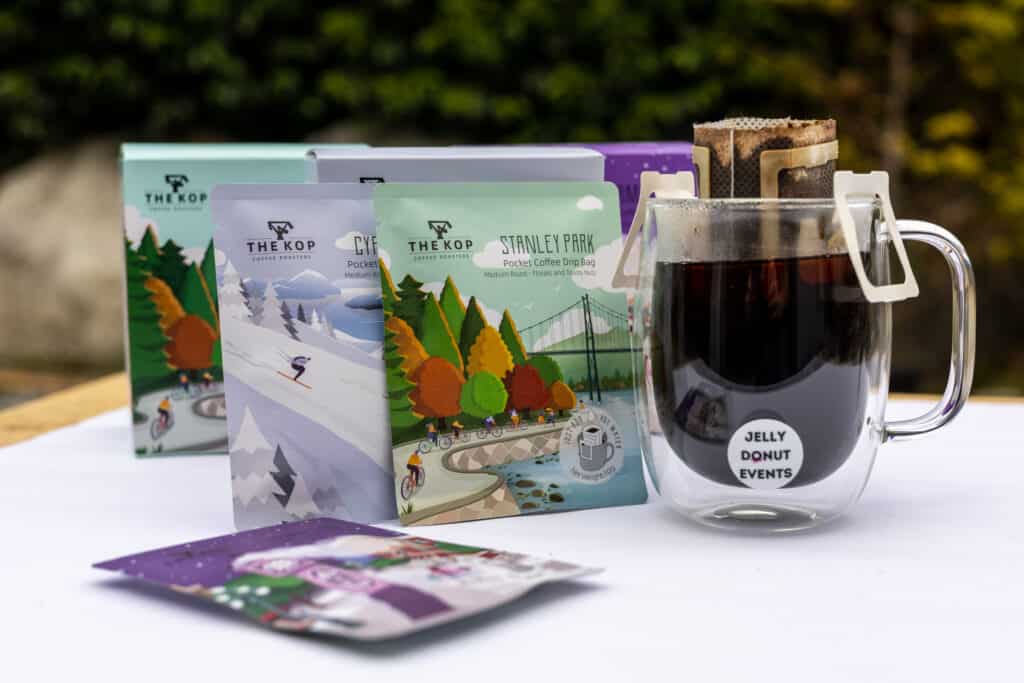 …or Latte Tasting Event into your virtual sales kickoff.
Before the meeting date, our company will mail each of your sales reps a coffee-tasting kit and instructions on brewing it to perfection.
During the event, our coffee guru will teach your members about the science of brewing java and how to appreciate the flavor profiles of several different coffees or lattes.
This doesn't have to happen all in one-time block. We'll work with your coordinator to introduce a new coffee at strategic moments, like after a technical presentation, when your salespeople most need a pick-me-up.
5 – Break for Tai Chi or Yoga
One of the downsides to a virtual meeting is that it usually means you're sitting and staring at a screen.
Get your sales reps physically in sync with each other by adding group tai chi or yoga to your agenda.
This will get everyone's blood flowing and their minds alert to soak up information in the learning sessions ahead. It might be so effective that your sales leaders move to start every day with gentle exercise!
6 – Icebreaking Speed Games
Effective salespeople need to be quick-witted and personable.
Help your sales team sharpen these skills by punctuating your training sessions with speed games.
Pair off members or divide them into small groups and choose a virtual game to play.
These exercises will build trust among different team members.
7 – Fire Up The Competition
If you want to get your sales organization revved up and ready to sell, inject some healthy competition into your meeting.
Targets and rewards drive most salespeople, so run short competitions with prizes throughout the day.
These could be virtual or physical games like a workout challenge or scavenger hunt.
8 – Learn a New Skill Together with a Lock-Picking Event
Customers are like padlocks. Occasionally they'll show you the key, and you can land the deal quickly.
But more often, you'll have to pick them open through detailed questions and analysis.
Bring this metaphor to life at your virtual sales kickoff by treating your team to a learn lock-picking class!
The learn lock-picking class from Jelly Donut Events is hosted by a professional security expert. We can accommodate up to 2,000 participants, so you can get your whole team involved.
It also makes a great breakout session activity.
Before the event, we'll mail each member of your team a lock-picking kit and a set of padlocks. Everyone will get hands-on with increasingly complex locks, proving to themselves that they can learn new skills and conquer any problem.
9 – Invite Customers To Join Your Virtual Sales Kickoff
Invite customers to your virtual sales kickoff to give your teams feedback on their performance.
Customers can help your reps understand how they use your products in their everyday work and what features they'd like added.
If your team is open to constructive criticism, you can even invite lost customers to join breakout sessions and chat about why they passed on your offer.
10 – Roll Out The Magic Carpet
The top performers on a sales team can work all kinds of wizardry — and after attending a Learn Magic virtual kickoff, they'll even be able to do real magic tricks.
With this unique virtual sales kickoff idea, you can hire a professional magician to work with your sales managers and create a highly customized event.
Your company's reps can present their dazzling sales strategies and enchanting new products; then, our magician will pull your entire team together and teach them to perform uncanny magic tricks on the virtual stage.
This team-building event will leave everyone confident of superhuman success in the upcoming quarter.
11 – Role-play Over Tea
Role-playing is a feature of many successful sales training programs, but it can be hard to get into character on a virtual platform.
Our solution? Add tea to the mix.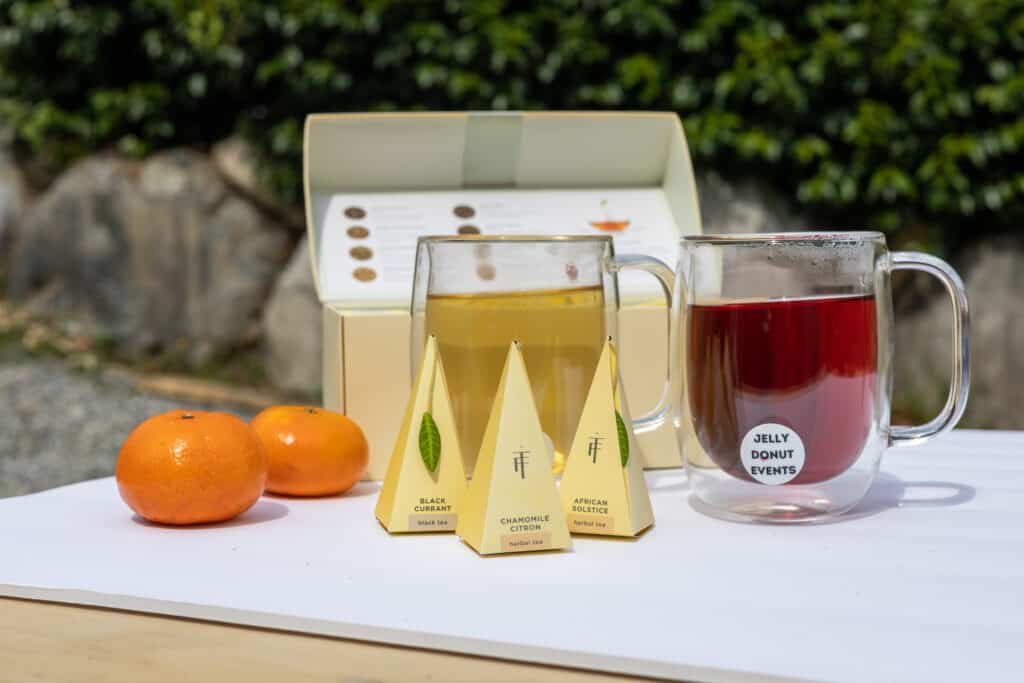 This is another situation where a shared physical experience will enhance the virtual connection between your team members.
Your team can be divided into small groups and assigned to different breakout rooms. In each room, they'll be given a scenario to role-play and a tea to taste.
This experience simulates real meetings at a café with customers, and the warming and delicious teas will set your sales reps at ease.
12 – Raffle Off Prizes Throughout Your Virtual Sales Kickoff
Nothing motivates salespeople like the thrill of winning — even if it's a door prize.
You can raffle off some small prizes and a few that are no-joke amazing, like an iPad, a high-end gift card, or even something as simple as an Amazon Fresh delivery.
This will keep the excitement high throughout your event.
13 – Give Every Team Member A Care Package Or Swag Bag
Okay, so we know you can't send each of your sales reps on vacation to the Bahamas. But every member of your team should get some physical token of your thanks.
Think beyond branded baseball caps and pencils when planning your gift bags, and fill them with items that align with your newest products, company values, or virtual sales kickoff event theme.
The more you can make your sales reps feel appreciated, the more they'll be motivated to push new limits for your company.
14 – Leave Space For Mingling After The Virtual Sales Kickoff
You don't need a tight structure for every second of your meeting agenda.
Your virtual sales kickoff will feel more like an in-person event if you leave some space for attendees to mingle and interact person-to-person.
This will help your newer sales reps find mentors and build relationships that last beyond a one-day event.
15 – Ask For Feedback
After a successful virtual sales kickoff, every rep on your team will leave knowing that their skills are valued and their opinions are wanted.
While they're in a positive mood, ask them to share which elements of the event were helpful and where there's room for improvement.
Video conferencing platforms like Zoom record your meetings, so you can send the video to your team members for future viewing.
This is another good time to send a survey asking what they thought of the event.
Chances are, if you use some of these ideas, your team will leave equipped to make more sales and eager for the next event.
The Three Pillars Of An Awesome Virtual Sales Kickoff Meeting
Remember, when you're planning your company's virtual sales kickoff, you should design your agenda around these three key elements: Education, Connection, and Energy.
Education And Information
Help your sales team fall in love with your product all over again by catching them up on the latest iterations.
Review your company's core values and differentiators, introduce targets for the next year, and equip your team with unstoppable strategies for closing sales.
Personal Connection
Isolation stifles productivity, but your sales team will climb to new heights with a close-knit company culture.
Let your reps know that their individual skills are valued and they're contributing to something bigger, and they'll take the extra mile at a run.
Create opportunities for socializing and bonding in the virtual space so your reps can get to know each other personally.
Energy And Fun Elements
One of the best ways to show your reps that they matter to your company is to break up the monotony of spreadsheets and presentations is to introduce fun elements into your virtual sales kickoff event.
Present great prizes to your top performers, hire a comedian or motivational speaker or incorporate a creative problem-solving activity to convert your virtual sales kickoff event into the optimal learning environment.
Keep Your Virtual Sales Kickoff Event As Interesting As Possible
Information and education make up the meat of a virtual sales kickoffs menu.
But goals and numbers will be much more digestible if you break them into bite-sized pieces and serve them with fun, creativity, and time for reflection.
Contact us now if you'd like to bring our interactive and one-of-a-kind events to your virtual sales kickoff!
Next Steps…
At Jelly Donut Events, we specialize in unique virtual sales kickoff event experiences.
All of our virtual events are designed to empower and motivate your sales team so they can start the year as their best selves.
If you'd like to chat to us about how we can help you achieve your sales team goals use the below form to reach out to us. Alternatively, send us an email at [email protected] or call us at +1 (877) 411-3658.